Becoming a Partner
The Keller Influence Indicator® is an assessment tool that measures influence potential. Unlike the abundance of static leadership preference-style tests used by most consultants or personality tests that report your character, the KII™ is scientifically validated and developed to provide a dynamic measurement of the Seven Influence Traits™ needed to influence others effectively.
The KII™ Assessment along with the KII™ Report & SOCR™ Report allows you to:
Measure your clients' current potential to influence using the Seven Influence Traits™
Dynamically track client's leadership and influence growth through continued measurements
Create upsell opportunities for additional coaching and training sessions using KII™ proven resources
Offer your clients an exclusive, first-of-its-kind tool to set you apart from the myriad of other consultants, coaches and trainers
Coach or consult from a report representing the objective responses of your client 
Connect the Seven Influence Traits™ to the Five Organizational Competencies  
A survey by PriceWaterhouseCoopers and the Association Resource Center concluded that the mean ROI for companies investing in coaching was seven times the initial investment. Coaching is serious business, and the KII™ is the one tool that will give you the edge on your competition. You will build a powerful coaching or consulting reputation, be a top-level coach or consultant, while growing your bottom line. 
KII™ Partner Program
We place great importance on our partners and want to create a close working relationship with them. The KII™ partner strategy focuses on the partner and what they need, in addition to mutual trust which translates into profitable business for both parties. 
There are many advantages of being a KII™ Partner: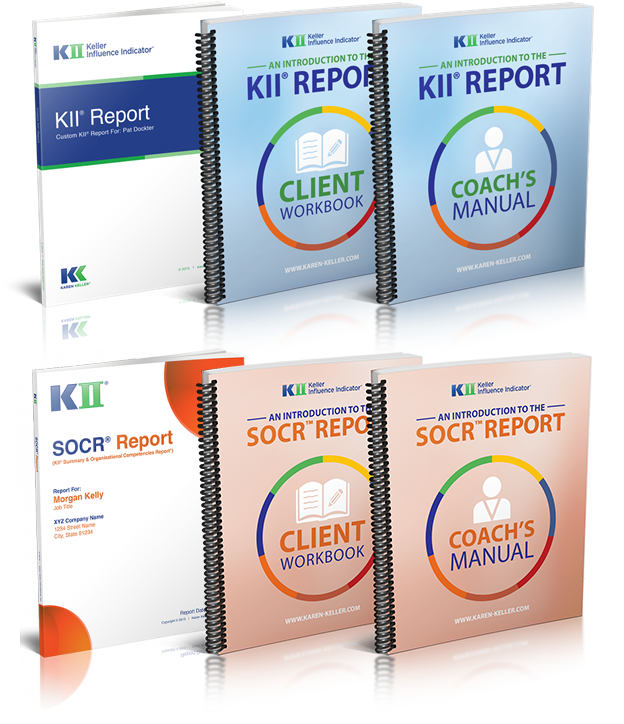 KII™ Assessment and Report wholesale prices
SOCR™ Report wholesale prices
KII™ Workbook(s) wholesale prices 
KII™ Coach Manual & KII™ Client Workbook set (exclusive ONLY to partners)
SOCR™ Coach Manual & SOCR™ Client Workbook set (exclusive ONLY to partners)
License to distribute, interpret and use the KII™ assessment and KII™ products 
Advanced information on offers and promotions
Access to exclusive website area containing valuable information
Right to use KII™ Training and Use resources
Access to KII™ and SOCR™ marketing materials 
Guidance and support for KII™ and influence training/coaching questions
Get the latest news and updates 
Acquire the leading edge on your competition
The KII™ Assessment is a tool that requires specific qualifications in order to administer and interpret it with others. The KII™ Certification Program prepares you to professionally and ethically administer and interpret the KII® assessment.  We offer exclusive licenses to become KII™ certified to select consultants, coaches, and trainers. By becoming a KII™ Partner, you gain KII™ certification, discounted training resources, the KII™ marketing kit, increased revenue and much more. As a member of the KII™ Partner program, you will be equipped and accredited to market your skills as a KII™ Certified Professional. 
Take the Free KII™ Assessment Trial Now!
Additional Opportunities for Expanding Your Consulting, Coaching and Training Services
The KII™ Summary & Organizational Competencies Report™, or SOCR™, provides top-level organizational leaders a summary on specified organizational employees or team member's KII™ scores. This allows for a unique composite overview of organizational strength and weaknesses in the area of influence. Consultants, coaches and trainers can sit down with C-level leadership or management and provide profoundly accurate information and insight, with follow-up training or coaching sessions on areas of organizational weakness. This added service, the SOCR™ Report, is worth thousands of dollars to your company's monthly revenue stream. 
How to Become a KII™ Partner
Learn how your consulting, coaching or training business can succeed with the Keller Influence Indicator®. 
Interested in Using the KII® in Your Business?