MBA Benefit Model
Incorporating the KII™ Into the Classroom
Empower your MBA Candidates to grow their influence. As a first-of-it's-kind, research backed influence measuring tool, the Keller Influence Indicator® (KII™) allows students the opportunity to personalize their learning and for professors to shape their students to reach full potential.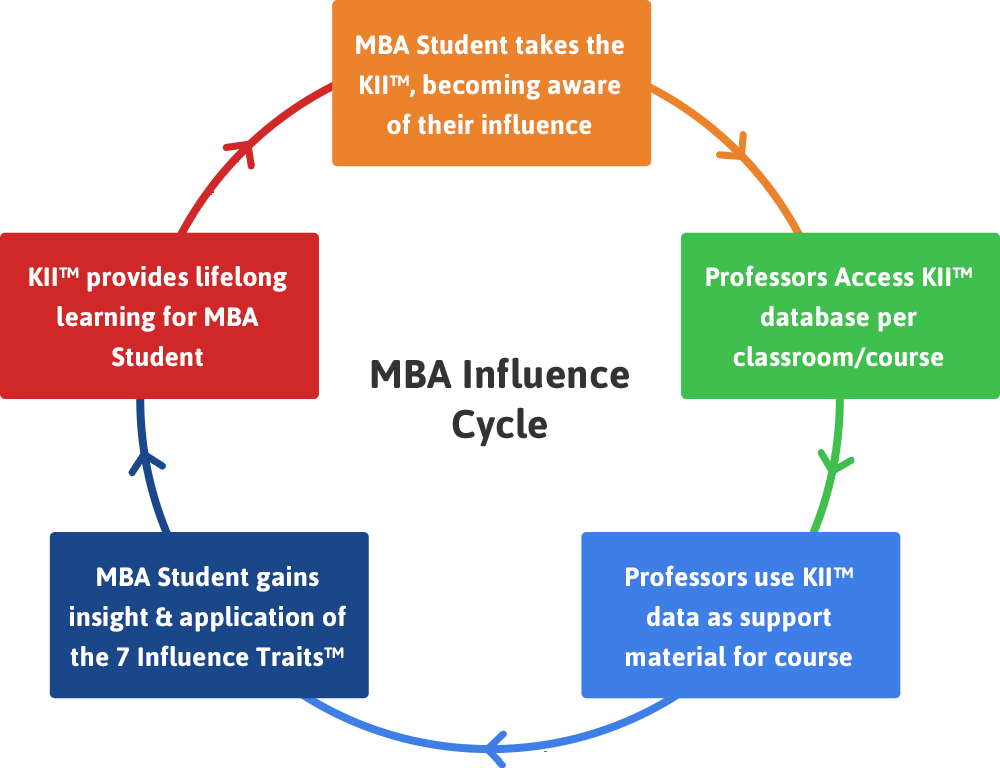 KII Residual Benefits to MBA Core Curriculum
Here are the ways the KII® can improve your students' coursework experience, improve your teaching experience, and increase the prestige of your program. Simply hover your mouse over each track to see how the KII® benefits students, professors and graduate programs.
MBA Benefit Model
Student Benefit
Professor Benefit
Institution Benefit

Influence Landscape

The KII™ presents the student a clear benchmark of their aptitudes in each of the Seven Influence Traits™. They realize their specific areas of needed improvement and become more engaged with coursework.

Accelerated Classroom Learning & Efficiencies

Graduate students' capacity to learn, problem-solve and create is increased after taking the KII™. Once a student realizes their Influence Landscape, learning transfers more quickly in the classroom.

Quality MBA Graduates

The student applies their MBA learning in their profession. Fueled by the KII™ assessment, their employment results in a high ROI for the company. This becomes a direct reflection of the school's MBA Program.

Tailored & Personal Objective

As a dynamic measurement, the KII™ emphasizes continuous improvement in influence. The student comes to own his or her learning experience as a means to improve influence strengths and weaknesses.

Enhanced Quality of Learning

With the awareness of their needed personal growth revealed by the KII™, students become committed to learning, increasing buy-in to the professors processes.

Academic Excellence

Enlightened, motivated and eager students tend to outpace their counterparts. They attain high levels of performance and excellence in their careers, reflecting well on the MBA program.

Awareness Enhancement/Shift

Armed with an accurate self-awareness of their influence strengths and weaknesses, students are willing to make internal changes as they confront their need grow in the Seven Influence Traits™.

Maximize Professor Talent

When the classroom is full of engaged students seeking self-improvement, the professor's ability to influence in the classroom increases dramatically.

Improves Job Placement & Increased Endowment

Students who actively growing their influence are sought out by successful companies. These companies see the performance of your MBA students and hire from your program as satisfied alumni endow the program.

Individual Brand Clarity

Presenting your influence strengths offers a competitive advantage. The KII™ is the first step in helping the student understand their individual strengths, allowing them to better present their aptitudes in order to shine.

Academic Accountability & Credibility

As students have a greater self-understanding of their personal brand from the KII™, professors can have an increased role in helping students hone their strengths, eliminate weaknesses, and better present themselves.

Institution Reputation

The student's ability to represent their alma mater effectively to the world determines much of the MBA Program's reputation. With growing public awareness of the quality of graduates, the MBA program becomes institution more prestigious.

Identifies Individual Blindspots

Without an accurate benchmark of our ability, students operate on intuition, allowing fear, avoidance of conflict, and other factors to drive choices. The KII™ provides the student with an accurate, research-based picture of their influence blind spots.

Rich Applicable Material & Increased Professor Investment

After a student identifies his or her blind spots, the professor can tailor learning and contextualize teaching to the needs of the specific students in that term's class.

Qualified Candidate with Academic Horsepower

Top firms and companies are canvasing graduate programs for students who perform beyond expectations. Academic achievement and experience can be a predictor of professional success.

Energized & Action Oriented

Once a student has accesses to their influence information, they become motivated to increase their strengths and make weaknesses irrelevant. They become more willing to bring their full efforts to the MBA experience and classroom.

Assignment Follow Through

The ability to learn depends on intrinsic motivation within the student. As a professor, you will have students who better apply themselves and follow through on assignments, using what they learn in your class to make progressive changes.

Increased Graduation Rate

Graduation rates are a key performance indicator of accountability in higher education. High rates occur as students feel they are being personally developed as made possible by the implementation of the KII™ in your graduate program.
Want to get a more detailed look at all of the benefits that the KII™ can bring to your MBA program? Read full descriptions of the MBA benefits to learn more.
Read Full Descriptions of MBA Benefits
Open your MBA student's eyes to the competitive advantage of the KII® as they understand their influence strengths, blind spots, growth areas and means of improvement. 
The KII™ and its supplemental report (KII™ Summary and Organizational Competencies Report™ (SOCR™)) and materials afford the MBA student the chance to explore, define and prepare himself or herself for intensive development in their ability to influence others.
KII™ engages MBA students leading to a better classroom experience.
A better classroom experience results in sought after MBA graduates. 
Sought after MBA Graduates increases the visibility of your graduate program.
Interested in Using the KII® in your MBA Program?